KTL
BESCHICHTUNG
Unsere Beschichtungen für dauerhaften Werterhalt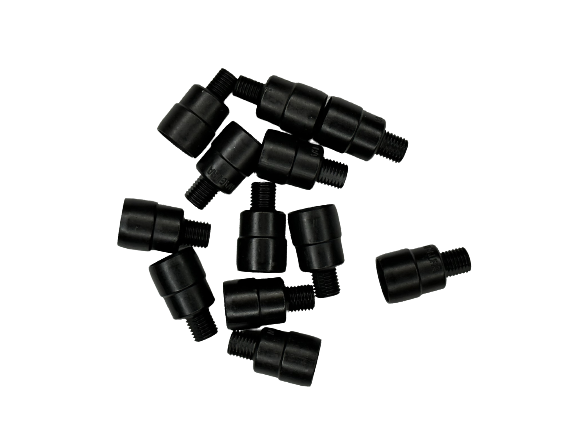 Wie funktioniert's?
Die Kathodische Tauchlackierung (KTL) ist ein elektrochemischer Prozess. Das Lackiergut (Schüttgut, Verbindungselemente, andere Kleinteile) wird in einer Trommel in ein KTL-Tauchbad mit elektrisch leitfähigem, wässrigem Beschichtungsmittel getaucht. Diese Methode eignet sich hervorragend für Ergebnisse mit hohen Korrosionsschutz und Robustheit.

Das Lackiergut fungiert während des Prozesses als Kathode. Durch ein angelegtes Gleichspannungsfeld werden daraufhin chemische Prozesse angeregt. So werden wasserlösliche Bindemittel an der Oberfläche des Lackierguts ausgefällt und bilden eine homogene, geschlossene KTL-Lackschicht. Auch Hinterschneidungen und Hohlräume können wir mit unserer vollautomatischen KTL-Anlage für Sie verlässlich beschichten.

We apply a topcoat as a sealant on Zinc flake coatings, other galvanically deposited zinc and zinc alloy coatings, stainless steels and zinc or aluminium die castings.
We use the following products in our services:
Zinc flake coatings (basecoats)

Dörken Coatings:

DELTA-PROTECT® KL100

DELTA-PROTECT® KL105

DELTA-PROTECT® KL120

DELTA-PROTECT® KL130

DELTA®-TONE 9000

Magni:

Topcoats (organic topcoats/sealers)

Dörken Coatings:

DELTA®-SEAL silver

DELTA®-SEAL silver GZ

DELTA®-SEAL black

DELTA®-SEAL black GZ

DELTA®-SEAL other colours on request

DELTA-eLACK® 800 (KTL)

Magni:

B18

B18E

P35

B28N

B28Nbl

E10AT

PPG / Whitford:

Klever:

Klevercol®

KleverPUR®

KleverPLAST®

KleverPLAST®-tech UV

KleverPLAST®-tech UV trace

Systems for bonding applications

For metal:

For plastic:

KleverPLAST®

KleverPLAST®-tech UV

KleverPLAST®-tech UV trace

Product post-processing (finishing)

Silicate topcoats:

Dörken Coatings:

DELTA-PROTEKT®VH 300

DELTA-PROTEKT®VH 301 GZ

DELTA-PROTEKT®VH 301.1 GZ

DELTA-PROTEKT®VH 302 GZ

DELTA-PROTECT®VH 315

Conventya:

Sliding coating/dry lubricant:

Dörken Coatings:

DELTA®-LUBE 10 green

DELTA®-LUBE 50

MacDermid:

Torque 'N' Tension Control Fluid

Torque 'N' Tension UV Fluid

Fuchs Lubritech:

Sliding mo 603

Sliding mo 605

Glide mo 627

Bufo WAX L

OKS:

Microglide (conventya group):

Special colours/textured lacquers as full or partial coating

RAL® colour shades (in various gloss levels)

NCS® shades (in various gloss levels)